Autonomous Political Economies: winemakers, national heritage, and the ethnographic mapping of geopolitics in the Republic of Georgia
Keywords:
Autonomous Political Economies, winemakers, tourism, geopolitics
Abstract
More than merely grapes go into the production of Georgian wine. For the Republic of Georgia, wine bottles up layers of identity and filters out oppressive, imperial histories of invasion, war, and occupation. My anthropological and ethnographic project is interested in how the Georgian wine supply chain — from tending vines, through production, onto the bottles' labels, and into the hands (and mouths) of tourists—simultaneously produces Georgian identities autonomous from a historical Russianness. As Georgians negotiate the reconceptualization of their identity amidst ongoing occupation and within a post-Soviet, postimperial context, they reconstruct a market of wine commodities. Wine and identity have historical embodiment in the land, which transfers to grapes, bottled and sold on domestic and international markets. Wines are labeled with, and as, symbols of heritage, telling stories of Georgia's tumultuous history. As conflicts, both historic and futuristic, political and environmental, continue to press upon Georgian borders, its people unceasingly negotiate their identities through grapes, vines, wines, and bottles. My fieldwork in Tbilisi and Georgia's winemaking regions encompasses various anthropological methodologies, data analysis from Geographic Information Systems, and considerations of Heritage Studies to explore the layering of wine landscapes as commodity networks that tell a story of Georgian heritage. I utilize cartography to trace diverging wine supply chains, that encompass traditional and industrial forms of viticulture and aim to visualize how these economic networks embody different political economic identities. Following the Georgian "Wine Trail," I document how heritage is portrayed throughout Georgia, how winemakers articulate identities, and how these might be at work with larger geopolitical tensions. While framed in the post-Soviet historical context, my project shifts the lens to a contemporary Georgian market to understand how geopolitical and geoeconomics considerations impact the Georgian wine economy. My work is interdisciplinary, exploring the intersection of environmental and political histories, with the contemporary frames of political economy and ecology, through archeological methodologies of heritage studies. My research project unpacks how Georgians associate their national heritage through a supposedly mundane object—wine—to show how Georgian nationality and Georgian wine are indeed the best pairing.
References
Aistara, G. (2018). Organic Sovereignties: Struggles Over Farming in an Age of Free Trade. Seattle, WA: University of Washington Press.
American Georgian Business Council. (2021). The Ghivno Forum 2021. Retrieved from https://www.ghvinoforum.com/
Avieli, N. (2018). Food and Power. Oakland, CA: University of California Press.
Basso, K. H. (1996). Wisdom Sits in Places: Landscape and Language Among the Western Apache Albuquerque, NM: University of New Mexico Press.
Batiashvili, N. (2018). The Bivocal Nation: Memory and Identity on the Edge of Empire. London, UK: Palgrave.
Besky, S. (2014). The Darjeeling Distinction: Labor and Justice on Fair-Trade Tea Plantations in India. Oakland, CA: University of California Press.
Bourdieu, P. (1986). Distinction: A Social Critique of the Judgment of Taste. Boston, MA: Harvard University Press.
Bowen, S. (2015). Divided Spirits: Tequila, Mezcal, and the Politics of Production. Oakland, CA: University of California Press.
Bruisch, K. (2016). The Soviet Village Revisited: Household Farming and the Changing Image of Socialism in the Late Soviet Period. Cahiers Du Monde Russe 57(1), 81–100. https://doi.org/10.4000/monderusse.8332.
Colman, T. (2008). Wine Politics: How Governments, Environmentalists, Mobsters, and Critics Influence the Wines We Drink. Oakland, CA: University of California Press.
Feiring, A. (2016). For the Love of Wine: My Odyssey Through the World's Most Ancient Wine Culture. Lincoln, NE: University of Nebraska Press.
Granik, L. (2020). The Wines of Georgia. London, UK: Infinite Ideas.
Grant, B. (2009). The Captive and the Gift: Cultural Histories of Sovereignty in Russia and the Caucasus. Ithaca, NY: Cornell University Press.
Gronow, J. (2003). Caviar with Champagne: Common Luxury and the Ideals of the Good Life in Stalin's Russia. Oxford, UK: Berg.
Guthman, J. (2007). The Polanyian Way? Voluntary Food Labels as Neoliberal Governance. Antipode 39(3), 456–78.
Guy, K. (2003). When Champagne Became French: Wine and the Making of a National Identity. Baltimore, ME: John Hopkins Press.
Gzoyan, E. G. (2018). The Admission of the Caucasus States to the League of Nations: The Role of Soviet Russia. Caucasus Survey 1, 1–17.
Hirsch, F. (2014). Empire of Nations: Ethnographic Knowledge and the Making of the Soviet Union. Ithaca, NY: Cornell University Press.
Johnson, D. L. & Schaetzel, R. J. (2015). Differing views of soil and pedogenesis by two masters: Darwin and Dokuchaev. Geoderma 237-238, 176-189.
Jung, Y. (2014). Tasting and Judging the Unknown Terroir of the Bulgarian Wine: The Political Economy of Sensory Experience. Food and Foodways 22(1–2), 24–47. https://doi.org/10.1080/07409710.2014.892733.
Jones, S. F. (Ed). (2014). The Making of Modern Georgia: The Frist Georgian Republic and Its Successors, 1918-2010. London, UK: Routledge.
King, C. (2008). The Ghost of Freedom: A History of the Caucasus. New York, NY: Oxford University Press.
Kivelson, V. A. (1995). Cartography, Autocracy, and State Powerlessness: The Uses of Maps in Early Modern Russia. Imago Mundi 51, 83-105.
Kivelson, V. A. (2006). Cartographies of Tsardom: The Land and Its Meanings in Seventeenth-Century Russia. Ithaca, NY: Cornell University Press.
Klumbytė, N. (2010). Memory, Identity, and Citizenship in Lithuania. Journal of Baltic Studies 41(3), 295-313
Mankekar, P. (2002). 'India Shopping': Indian Grocery Stores and Transnational Configurations of Belonging. Ethnos: Journal of Anthropology 67(1), 75-97.
Matchavariani, L. (2019). Introduction. In L. Matchavariani, The Soils of Georgia (1-6). Cham, Switzerland: Springer International Publishing. https://doi.org/10.1007/978-3-030-18509-1.
Matchavariani, L. & Kalandadze, B. (2019). History of Soil Survey. In L. Matchavariani, The Soils of Georgia (7-18). Cham, Switzerland: Springer International Publishing. https://doi.org/10.1007/978-3-030-18509-1.
Menabde, G. (2019). The Battle for Political Influence in the Georgian Orthodox Church. Retrieved from https://jamestown.org/program/the-battle-for-political-influence-in-the-georgian-orthodox-church/
Paxson, H. (2013). The Life of Cheese: Crafting Food and Value in America. Berkeley, CA: University of California Press.
Pérez, R. L. (2017). Interviewing Epistemologies: From Life History to Kitchen Table Ethnography. In J. Chrzan & J. Brett (Eds.) Food Culture: Anthropology, Linguistics and Food Studies (47-57). New York, NY: Berghahn Books.
Prudham, S. & MacDonald, K. I. (2020). Qualifying Tradition: Instituted Practices in the Making of the Organic Wine Market in Languedoc‐Roussillon, France. Journal of Agrarian Change 20(4), 659–81. https://doi.org/10.1111/joac.12371.
Reese, A. M. (2018). 'We Will Not Perish, We're Going to Keep Flourishing': Race, Food Access, and Geographies of Self-Reliance. Antipode 50(2), 407-424.
Safri, M. 2015. Mapping Noncapitalist Supply Chains: Toward an Alternate Conception of Value Creation and Distribution. Organization 22(6), 924–941.
Scott, E. (2017). Familiar Strangers: The Georgian Diaspora and the Evolution of Soviet Empire. New York, NY: Oxford University Press.
Scott, J. (1998). Seeing Like a State: How Certain Schemes to Improve the Human Condition Have Failed. New Haven, CT: Yale University Press.
Shaw, D. (2005). Mapmaking, science and state building in Russia before Peter the Great. Journal of Historical Geography 31, 409-429.
Suny, R. (1994). The Making of the Georgian Nation. Bloomington, IN: Indiana University Press.
Teil, G. (2012). No Such Thing as Terroir?: Objectivities and the Regimes of Existence of Objects. Science, Technology, & Human Values 37(5), 478–505. https://doi.org/10.1177/0162243911423843.
Trubek, A. (2008). The Taste of Place: A Cultural Journey into Terroir. Oakland, CA: University of California Press.
Walker, A. & Manning P. (2013). Georgian Wine: The Transformation of Socialist Quantity into Postsocialist Quality. In Black, R. E. & Ulin, R. C. (Eds.) Wine and Culture: Vineyard to Glass, (201-219), New Delhi, India: Bloomsbury.
Weiss, B. (2016). Real Pigs: Shifting Values in the Field of Local Pork. Durham, NC: Duke University Press.
Wilmott, C. (2019). 'Mapping-With': The Politics of (Counter)Classification in OpenStreetMap. Cartographic Perspectives 92, 43-57.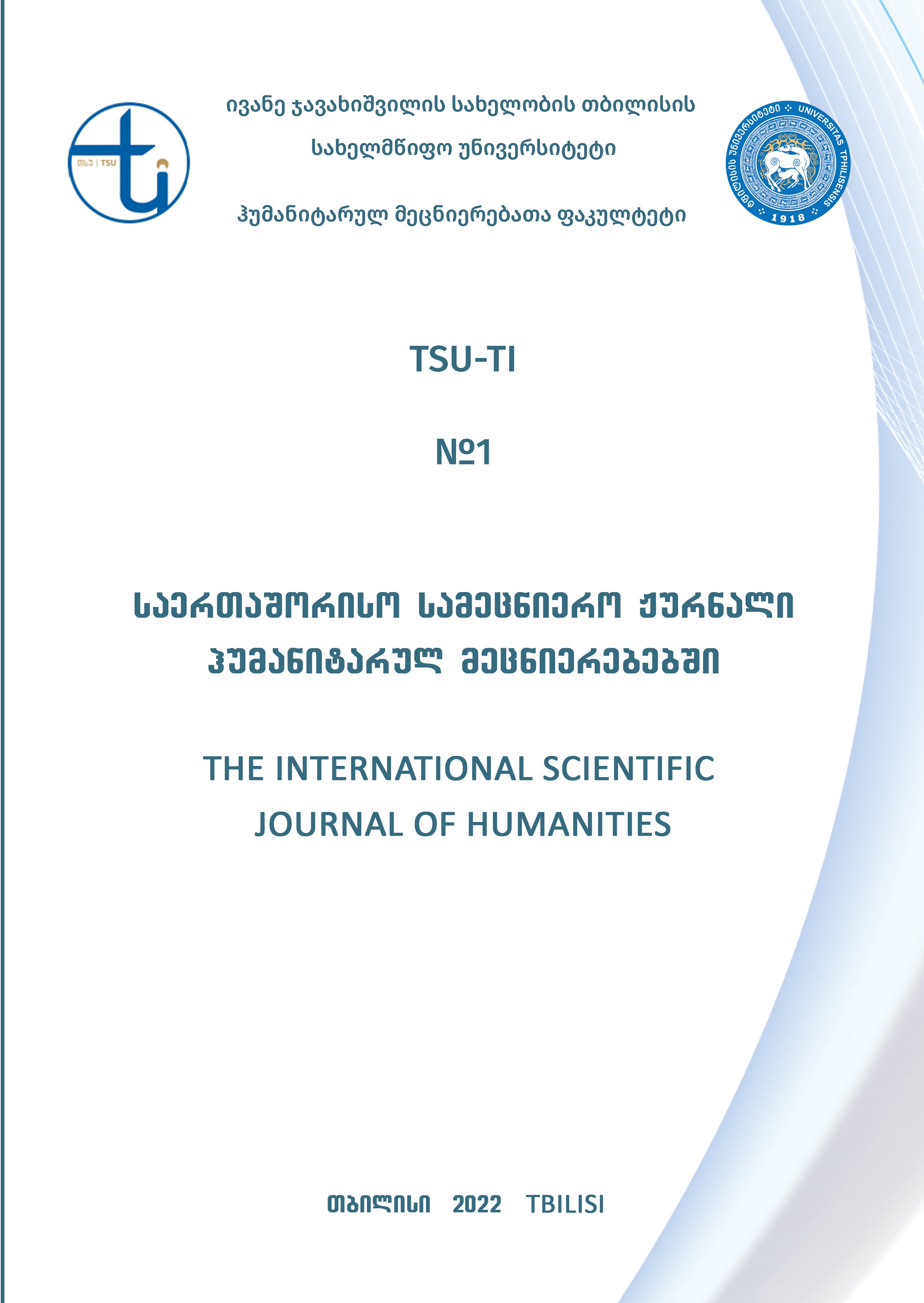 Downloads
How to Cite
/USA, R. B. . . (2022). Autonomous Political Economies: winemakers, national heritage, and the ethnographic mapping of geopolitics in the Republic of Georgia. TSU-TI — THE INTERNATIONAL SCIENTIFIC JOURNAL OF HUMANITIES, 1(1). https://doi.org/10.55804/TSU-ti-1/Brown