Stamp Seals in and out of Georgia
Keywords:
Stamp Seals, Georgia, Archaeology
Abstract
In this abstract I will shortly discuss the Late Bronze-Early Iron Age clay seals, mostly stamps which have been discovered on the territory of Georgia and also their analogues. I have started to investigate this issue on my master and on that stage of study I had done catalogue, classification and the research of the given materials. As a PhD dissertation I am planning to finish the study of the Late Bronze-Early Iron Age Georgian Clay seals.As it is seen from the study of the Late Bronze-Early Iron Age Georgian seals in most cases their surface depicts the ornamental motives which were very spread in the other ancient cultures in different periods, but at the same time some of the depictions are local. As it is known societies which had been living on the territory of Georgia had intercultural and trade relations with different cultures, such as Anatolian, Aegean, and Mediterranean, near Eastern and so on. And these relations could be seen on different materials discovered during the archaeological excavations. As I have already mentioned Georgian seals depictions have parallels in different ancient cultures from Europe to Indus valley. Before appearing in Georgia stamp seals had been spread in some other ancient cultures earlier. Probably this type of seals had been entered on the territory of Georgia from these cultures. One of the main goals of my works is to find out from which culture, with which way and when it started to distribute stamp seals on the territory of Georgia. to research this issue, I use some methods. For example: I compare Georgian seals with its analogues and also, I mark the discovery places of its analogues on the map chronologically. This will help me to define the distribution territories of this kind of the seals and its spreading routs, moreover, I will be able to see from which territory were distributed stamp seals on the territory of Georgia. It is true that the seals played a very important role in this period people's everyday life because they have been found at almost all Georgian significant archaeological sites. unfortunately, there exists many vague facts about Late Bronze-Early Iron Age Georgian archaeology. So, studying this kind of important materials will clear up some of the undefined issues about this period Georgia too. the fact that Georgian seals finds many analogues among the ancient worlds seals grows this artifacts importance, and it is evident that Georgian seals must be studied among the other cultures' seals.
References
Алиев В. (1971). Археологические раскопки в урошище Бабадервиши. Советская Археология, №2, 223-232 стр.
Бардавелидзе В.В. (1957). Древнейшие религиозние верования и обрядовое и графическое искусство грузинских племён. Тбилиси.
Buchanan B. Moorey P. (1988). Catalogue of ancient Near Eastern seals in the Ashmolean Museum Vol. III.: The Iron Age stamp seals (c. 1200-350 BC). Oxford: Clarendon.
Collon D. (1997). 7000 years of seals. London: British museum Press.
Chogovadze T. (2019). Gvian Brinǯao-Adre Rkinis χanis Sabečdavebi [Late Bronze – Early Iron Age seals (research and catalogue)]. Tbilisi: TSU (The research paper has been completed in order to obtain Master's Academic Degree in Archaeology).
Davliandze R, Sadradze V. (1993). Narekvavis namosaχlari da samarovani [Narekvavi settlement and cemetery]. Tbilisi: "Mecniereba".
Kakhidze A, Fartenadze T. (2017). Ačara Adreantiḳur χanaši. [AJara in the early Antiquity (Colchian Classics)]. Batumi.
Fitskhelauri K. (1973). Aġmosavlet Sakartvelos tomta istoriis ʒiritadi ṗroblemebi (ʒv. c̣ XV – VII ss.) [Main problems of East Georgian tribes (XV – VII century BC)]. Tbilisi: "Mecniereba".
Fitskhelauri K. (1965). Ior-Alaznis auzis teritoriaze mosaχle tomta uʒvelesi kulṭura [Oldest culture of the tribes living in Ior-Alazani basin]. Tbilisi: "Mecniereba".
Fitskhelauri K. (1965). Centraluramierkavkasiuri arkeologiuri kultura ʒv. c̣ XIV – XIII ss. [Central Transcaucasian archaeological culture XIV – XIII century BC]. Tbilisi: "Mecniereba".
Freikman M. Garfinkel Y. (2017). Sealings before cities: new evidence on the beginnings of administration in the ancient Near East, Levant. The Journal of the Council for British Research in the Levant. London: Routledge.
Hasanov Z. (2018). The prehistory of knowledge exchange between the Caucasus, the Black Sea Region and Central Europe: first millenium BC. "Studies on South east Europe": Vol 22. Pp. 52 – 79.
Kakhutaishvili D. (1964). Uplisciχe I [Uflistikhe I]. Tbilisi: "Mecniereba".
Licheli V. (2019). Grakliani Goris Sabečdavebi [seals from Grakliani Gora]. Batumis arkeologiuri muzeumis šromebi, T. VIII. Batumi. Pp. 71-90.
Lortkipanidze, M. (1969). ʒveli Sakartvelos gliṗtikuri ʒeglebis korṗusi, I [Corpus of old Georgian Glyptic artifacts, I]. Tbilisi: "Mecniereba".
Lortkipanidze, O. (2002). ʒveli Kartuli civilizacis sataveebtan [In the beginning of old Georgian civilizations]. Tbilisi: TSU Press. pp. 103-123.
Makkay J. (1984). Early stamp seals in South-east Europe. Budapest: Akadémiai Kiadó.
Mamuladze Sh. (2010). Aχali masalebi Sabečdavebis funkcionaluri danišnulebis zogierti sakitxis dazustebistvis [new materials for definition some of the functional purpose of the seals. TSU press. pp. 93 – 106.
Matz F. Biesantz H. Pini I. (1964). Corpus der minoischen und mykenischen Siegel. Berlin: Gebr. Mann Verlag.
Muskhelishvili D. (1978). Χovles Namosaχlaris arkeologiuri masala [archaeological materials from Khovle settelement]. Tbilisi: "Mecniereba".
Sagona A. Zimansky P. (2009). Ancient Turkey. London: Routledge.
Shanshavili N. Sherazadashvili Z. (2013). Samχret ḳavḳasiis uʒvelesi sabečdavebi [Oldest seals of South Caucasus]. Gori: "Goris Muzeumis arkeologiuri macne". pp. 7-25.
Tetruashvili A. (2018). Meurneobis tiṗebi Graklian goraze kvis industriis arkeologiuri da ṭrasologiuri kvlevebis mixedvit [The agriculture types on the Grakliani hill in the framework of the archaeological and the traceological researches of the stone industry]. Tbilisi: TSU press.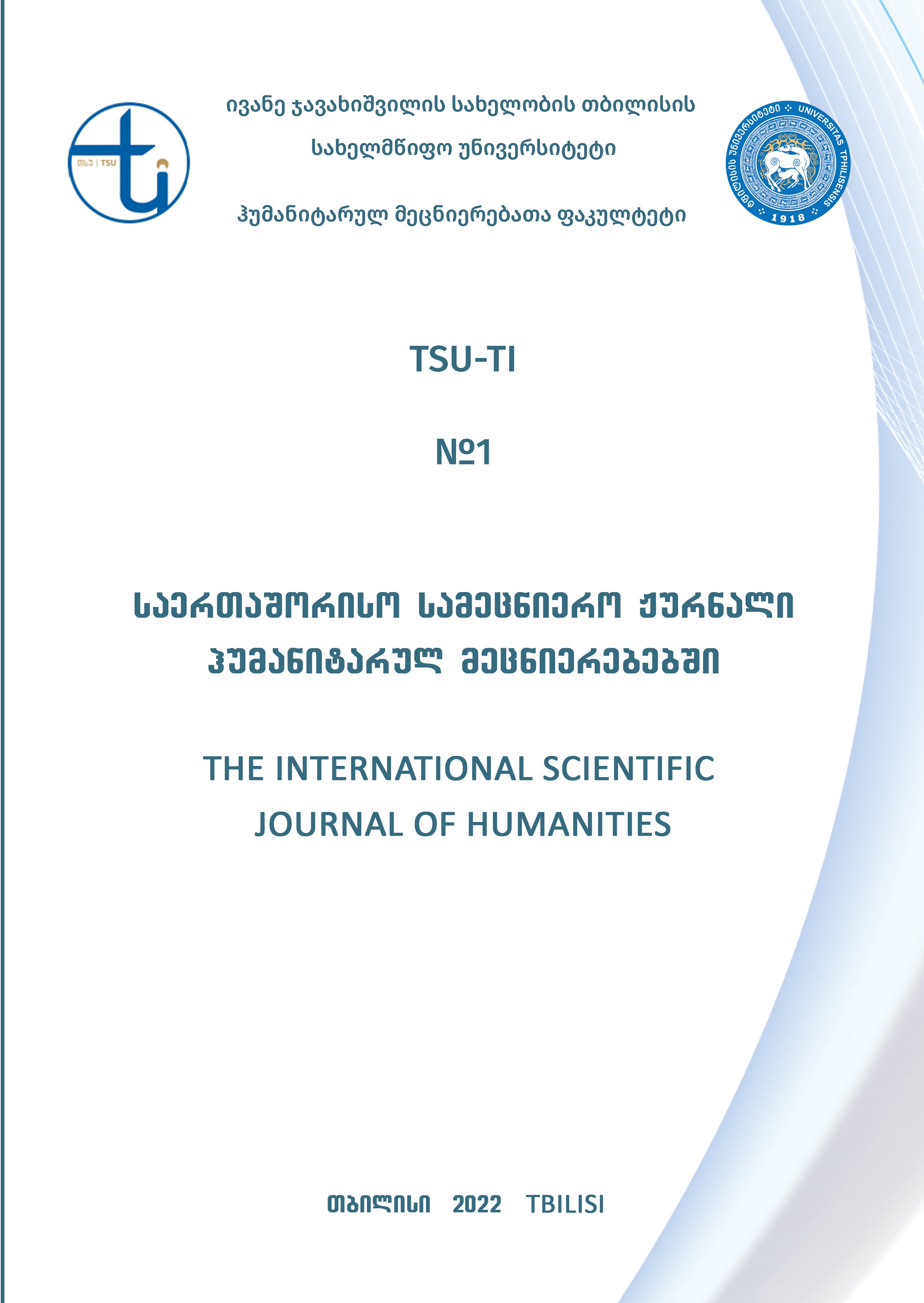 Downloads
How to Cite
/Sakartvelo, T. C. (2022). Stamp Seals in and out of Georgia. TSU-TI — THE INTERNATIONAL SCIENTIFIC JOURNAL OF HUMANITIES, 1(1). https://doi.org/10.55804/TSU-ti-1/Chogovadze