Bartmann Jugs from Tbilisi — Import and Local Imitations of the German Stoneware in Georgia
Keywords:
Bartmann Jugs, Import, German Stoneware, Georgia
Abstract
Tbilisi is archaeologically one of the least studied sites in Georgia as it always was a densely populated area throughout its presence. Therefore, every single archaeological discovery from Tbilisi deserves much attention. A significant group of the artefacts (vessels) was discovered in Gudiashvili Square (Old Tbilisi) in the context of an archaeological treasure – deliberately hidden in one of the Kvevri in the 18 th -19 th century wine cellar. These vessels must have been produced in the same ceramic workshop due to the similarity of their ornamentation and shapes. Bearded man face mask depicted on the vessels categorizes them in the group of the pottery known as Bartmann/Bellarmine jugs (Bartmanner in German means bearded man). Bartmann jugs are one of the most popular group of the 'Rhenish Stoneware' – ceramics made in Central Europe (Germany) and distributed worldwide throughout the 16th -18th centuries. Bartmann jugs from Gudiashvili Square, with the parallels from another archaeological sites of Tbilisi, is believed to be locally produced imitations of the original vessels imported from Europe. Import and local imitations of the Bartmann jugs from the territory of Georgia are capable of drawing a very important picture of trade networks between the kingdom of Kartli/Georgia and Europe in 17th -18th centuries.
References
Giorgadze, Z., Niniashvili T. (2018). Pottery from Gudiashvili Street. In Online Archaeology N14. Tbilisi.95-98. https://www.heritagesites.ge/uploads/files/5c248806c5829.pdf
Tabuashvili, A. (2020). Economic history of the Medieval Georgia. Tbilisi.
Kakabadze, S. (1940). French Trade Capital to Georgia in 18th century. In The works of the Kutaisi State Pedagogical institute. Vol.1. Kutaisi. 109-122.
Mania, M. (2003). Basements of Old Tbilisi. In Georgian Antiquities N3. Tbilisi. 150-167.
Mindorashvili, D. (2015). Archaeology of Georgia II-III (High & Late middle Ages). Batumi: Shota Rustaveli Batumi State University.
Mindorashvili, D. (2009). Archaeological Excavations in Old Tbilisi (Caravanserai, Synagogue). Tbilisi
Mindorashvili, D. (2008). Archaeological Excavations in Synagogue. In Archaeological Sites of the Medieval Georgia, (Ed.) D. Mindorashvili. Tbilisi. 70-100.
Mitsishvili, M. (1974). Glazed Pottery from the Tbilisi Fortress. In Archaeological Sites of Medieval Georgia. Vol. 2. Tbilisi. 189-200.
Radiani, Sh. (Ed). (1935). Jean Shardin. A Journey in Georgia, Translated from French by Vasil Barnovi. Tbilisi: State Publishing.
Rezesidze, N. (2021). Trade-economic Relations of Dmanisi During the Middle Ages (According to the Archaeological Data). [Doctoral Disertation, Georgia Technical University]. Tbilisi.
Kikodze, M. (1973). Advancement of Economic Life in the First Quarter of the Eighteenth century. In Gerogian Chronicles vol.4.
K'aukhchishvili, S. (Ed) (1975). Foreign Sources about Georgia, book XXXVIII. A Journey of Jean Chardin in Persia and Other Eastern Countries (The Data about Georgia). Translation from French, Comments & Studies by Mzia Mgaloblishvili. Tbilisi.
Draper, J. (1984). Post Medieval Pottery 1650-1800. UK: SHIRE Publications LTD
Gaimster, D. (1997). German Stoneware 1200-1900: Archaeological and Cultural History, Containing a guide to the collection of the British Museum, Victoria & Albert Museum and Museum of London (with contributions by Robin Hildyard, John A. Goodall, Judy Rudoe, Duncan R. Hook, Ian C. Freestone and Mike S. Tite). London: British Museum Press.
Hinton, J. (2012). The Art of German Stoneware, 1300–1900: From the Charles W. Nichols Collection and the Philadelphia Museum of Art. Yale University Press. 4-60
Valentiner, W. R. (1911). German Stoneware. Bulletin of the Metropolitan Museum of Art N8. New York: The Metropolitan Museum of Art. 159-163
Шелковников, Б.А. (1950). Рейнская керамика из раскопок в Дманиси. საქართველოს სახელმწიფო მუზეუმის მოამბე (სსმმ) ტ. XVI-В. 163-164.
Shelkovnikov, B.A. (1950). Rhenish Stoneware from the Dmanisi Excavations. The Bulletin of the Georgian National Museum, vol.XVI-B. 163-164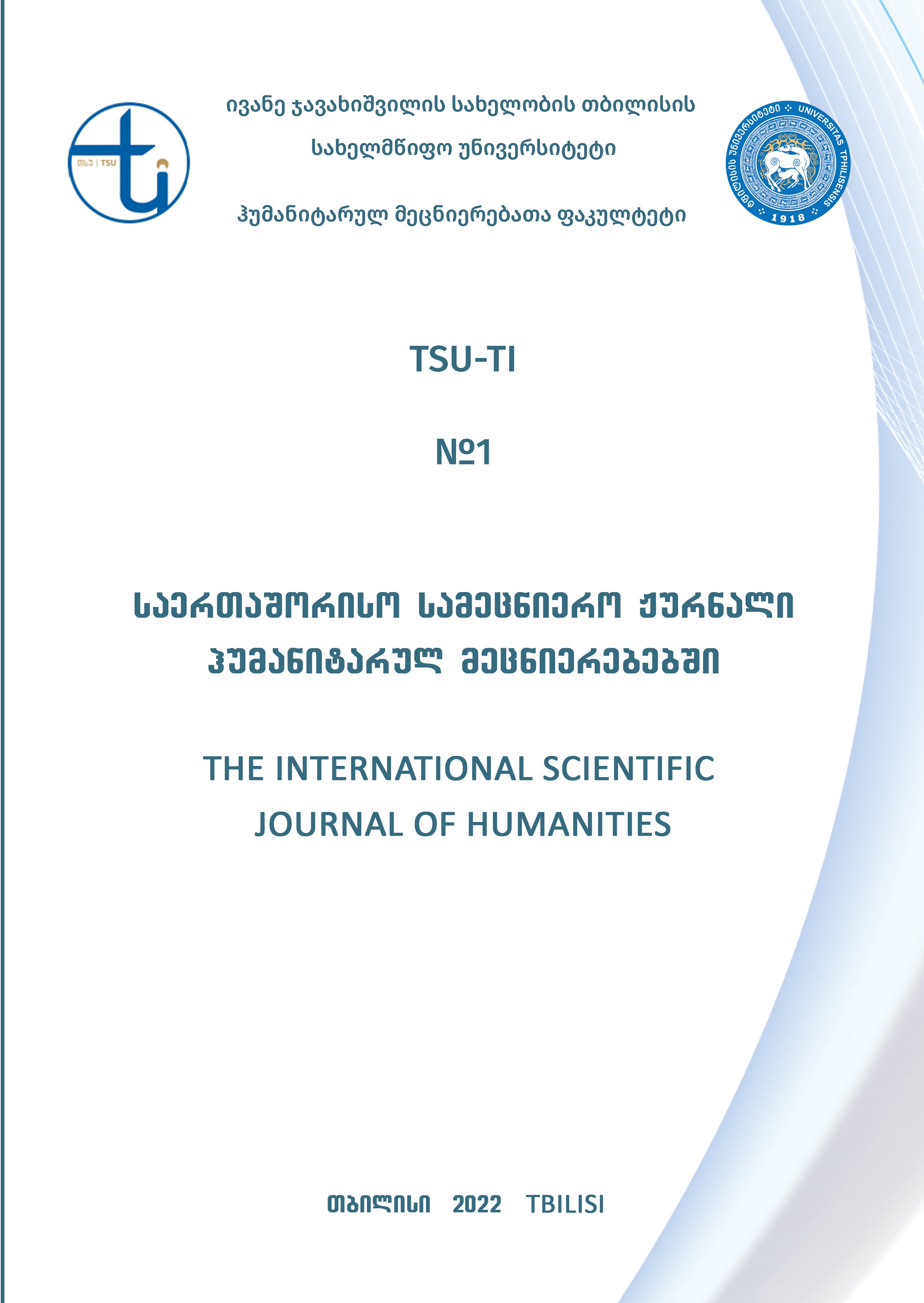 Downloads
How to Cite
/Sakartvelo, . L. C. (2022). Bartmann Jugs from Tbilisi — Import and Local Imitations of the German Stoneware in Georgia. TSU-TI — THE INTERNATIONAL SCIENTIFIC JOURNAL OF HUMANITIES, 1(1). https://doi.org/10.55804/TSU-ti-1/Chologauri