Understanding the Evidence for the Silk Roads in Georgia and its Perspective
Keywords:
Silk Road, Archaeology, Georgia
Abstract
The research aims to reassess the values and cultural significance associated with Gremi, the capital of the vanished Kingdom of Kakheti (Georgia), through deconstructing its biography. In doing so, it aims to understand to what extent Gremi as a historical landscape can meet the criteria for the UNESCO Silk Roads Transnational Serial World Heritage nomination as opposed to nominating some of its architectural buildings as a single property. Since 2005 the idea of Transnational World Heritage Nominations, which involve properties presented by a State Party whose heritage is under-represented has become one of the measures for the establishment of the Representative, Balanced, and Credible World Heritage List. In this context, after a decade of work, the Silk Roads World Heritage Transnational and Serial Nomination project has developed. The nomination envisages inclusion of trading cities, caravanserais, inns, military posts, garrison stations, natural and cultural landmarks, and industrial/production sites from different countries linked by an overarching concept of the Silk Roads. The nomination project has already gained currency in the political and cultural agenda of the countries along the historic route. In 2014 the World Heritage Committee at its 38th session inscribed the first Silk Roads transboundary serial property The Routes Network of Chang' an-Tian Shan Corridor on the World Heritage List, which encompasses 33 component sites in three countries, China, Kazakhstan and Kyrgyzstan. Other corridors including Penjikent-Samarkand-Poykent-Merv Zarafshan Heritage Corridor (Tajikistan, Turkmenistan and Uzbekistan), the South Asian Silk Roads (China, India, Nepal and Bhutan), and the Fergana-Syrdarya Silk Roads Heritage Corridor (Kazakhstan, Kyrgyzstan, Tajikistan and Uzbekistan) are underway, along with the initiatives to explore the corridors to the West. In the increasingly globalized world, cultural heritage is recognized not only of national but potentially international importance too. The values ascribed to the place determines the significance of each heritage site. The deconstruction of Gremi's biography showcases its prospective international potential in a somewhat different way than the State Party features it on the Tentative List of the World Heritage Programme. The archaeological studies of Gremi and the principles of cultural heritage management is a framework for this study. The qualitative method is employed to understand the evidence for the Silk Roads in Gremi. The research maps Gremi-Shamakhi-Ardebil Silk Route using computer programme Google Earth. The biographical approach to Gremi's landscape makes apparent that focusing predominantly on the best-preserved parts of Gremi, such as the church of Archangels and the adjoining royal tower, considerably limits the representation and expression of the very essence of the place. Alternatively, framing Gremi as an outcome of the Silk Roads makes it possible to tell a fuller and richer story about it, enabling to capture all the values one might ascribe to, including the symbolic, historical and archaeological.
References
Clements, J. (2017). A History of the Silk Road. Haus Publishing: London.
Chilashvili, L. (1968). Kalakebi Feodaluri khanis Sakartveloshi, I. Tbilisi: Metsniereba
Chilashvili, L. (1970). Kalakebi Feodaluri khanis Sakartveloshi, II. Tbilisi: Metsniereba
Chilashvili, L. (1980). Kakhetis kalakebi. Tbilisi: Metsniereba.
Baird M. F. (2017). Critical Theory and the Anthropology of Heritage Landscapes. University Press of Florida.
Braund, D., Javakhishvili, K., Nemsadze,G. (2009). The Treasury of Zghuderi - Elite burials of the Caucasian Iberia in the Roman Period 200-250 AD. Tbilisi: Georgian National Museum.
De la Vaissière, É. (2014). Trans-Asian trade, or the Silk Road deconstructed (antiquity, middle ages). In L. Neal & J. Williamson (Eds.), The Cambridge History of Capitalism (pp. 101-124). Cambridge: Cambridge University Press.
Dundua, T. (2013). Money in Classical and Hellenistic Periods: Coin Issues and Monetary Circulation in Colchis and Iberia (Georgia). Tbilisi: Meridian Publishers.
Dundua, T. (2019). Transcaucasian Trade Route. Ivane Javakhishvili Tbilisi State University, Faculty of Humanities, Institute of Georgian History, Proceedings XV, 9-20. https://geohistory.humanities.tsu.ge/images/SHROMEBI/SHROMEBI-15/GEO_XV/001_Tedo_Dundua.pdf
Fellmeth, U. (2006). "Tabula Peutingeriana", In: Brill's New Pauly, Antiquity volumes eds Hubert Cancik and Helmuth Schneider. doi.org/10.1163/1574-9347_bnp_e1128120.
Frankopan, P. (2015). The Silk Roads: A New History of the World. London: Bloomsbury Publishing.
Gagoshidze, I. (2020). Takhtidziri Cemeteries. Tbilisi: Cezanne.
Gamkrelidze, G. (1983). Mtisdziri. In: O. Lordkipanidze, ed., Vani Archaeological Excavations, Tbilisi: Mecniereba, 127–128.
Gamkrelidze, G. (2021). Archaeology of Georgia (5th Century BC - 5th Century AD). Iberia-Colchis. Supplement I., Tbilisi: Georgian National Museum.
Giviashvili, I. & Koplatadze, I. (2004). Tao-Klarjeti. Tbilisi: TSU Publishing.
Hansen, V. (2012). The Silk Road: A New History. New York: Oxford University Press.
Jamburia.S, (2021). What could be the future of the past: capturing a potential value of Gremi historical landscape. Spekali 15 (1). DOI: 10.55804/jtsu-1987-8583-15-5
Jing, F., & Denyer, S. (2019). Safeguarding cultural heritage along the Silk Roads. In: M. Rossler, G. Doubleday, (eds). World Heritage, 93. London: Publishing for Development Ltd.
Kopaliani, J. (2017). Dmanisi: a site of ancient town. Tbilisi: Tsigni+eri.
Lordkipanidze, O. & Muskhelishvili, D. (2011). Sakartvelos udzvelesi savachro-satranzito gzebi, Analebi 7, 126–203.
Lordkipanidze, O. (2002). Trade on the Black Sea. A Historic Forerunner of the Great Silk Road. In: M. Faudot, A. Fraysse and E. Geny, eds., Pont Euxin et commerce: la genèse de la « route de la soie ». Actes du IX Symposium de Vani (Colchide, 1999), Besançon: Institut des Sciences et Techniques de l'Antiquité, pp. 7–13.
Lortkifanidze, B., Murgulia, N. (2014). Svaneti in Relationship with Byzantium and Sasanian Iran in the 5th -6th centuries. Bulletin of the Georgian National Museum, 5 (50-B), 95-115.
Licheli, V. (2020). Intellectual Innovations in Georgia (11th-9th Centuries BC), Excavations at Grakliani Hill. Ancient Civilizations from Scythia to Siberia 26 (1). pp. 350-361. doi:10.1163/15700577-12341378
Matthee, R. (1999). The Politics of Trade in Safavid Iran: Silk for Silver, 1600-1730. Cambridge University Press.
Mepisashvili R. (1979). The arts of ancient Georgia London: Thames and Hudson.
Melikishvili, G. (2006). Karti VIII-I saukuneebshi. In N. Shoshiashvili ed. Sakatvelos Istoria I. Tbilisi: TSU.
Millward, J. A. (2013). The Silk Road: A Very Short Introduction. New York: Oxford University Press.
Mindorashvili, D. (2015). Sakartvelos arkeologia. II-III. Batumi: Batumi Shota Rustaveli State University.
Mikeladze, T. (1978). Arkeologiuri kvleva-dzieba rionis kvemo tselze. Tbilisi: Metsniereba.
Mustafayev, S. (2018). The Trade Routes and the Silk Trade along the Western Coast of the Caspian Sea from the 15th to the First Half of the 17th Century 3 (2) 23-48.
Pliny. Natural History, Volume II: Book 6. Translated by H. Rackham (1942). Loeb Classical Library 352. Cambridge, MA: Harvard University Press.
Strabo (19171932). The geography of Strabo. London: W. Heinemann.
Suny, R. (1994). The making of the Georgian Nation. Bloomington: Indiana University Press.
Tolordava, V. (1983). Dapnari. In: O. Lordkipanidze, ed., Vani Archaeological Excavations, Tbilisi: Metsniereba, pp. 136–138.
Tolordava,V. (1983a). Dablagomi In: O. Lordkipanidze, ed., Vani Archaeological Excavations, Tbilisi: Metsniereba, pp. 129–135.
UNESCO. (2014). World Heritage Committee. Thirty-eighth session Doha, Qatar. 15 - 25 June 2014. WHC-14/38.COM/16. https://whc.unesco.org/archive/2014/whc14-38com-16en.pdf
UNESCO. (2021). Silk Roads: Zarafshan-Karakum Corridor (Uzbekistan). https://whc.unesco.org/en/tentativelists/6497/
UNESCO. (2022). https://whc.unesco.org/en/statesparties/ir accessed May 13, 2022.
Winter, T. (2022). The Silk Road: Connecting Histories and Futures. New York: Oxford University Press.
Williams, T, D. (2016). Final Technical Report on the results of the UNESCO/Korean Funds-in-Trust Project, Support for the Preparation for the World Heritage Serial Nomination of the Silk Roads in South Asia, 2013-2016. London: UCL Institute of Archaeology.
Williams, T. D. (2014). The Silk Roads: An ICOMOS Thematic Study. Charenton-le-Pont: ICOMOS.
Whitfield, S. (2015). Life along the Silk Road, Second Edition (2nd ed.). Oakland: University of California Press.
Zakaraia P. (1975). Nakalakar Gremis Arkitektura. Tbilisi: Metsniereba.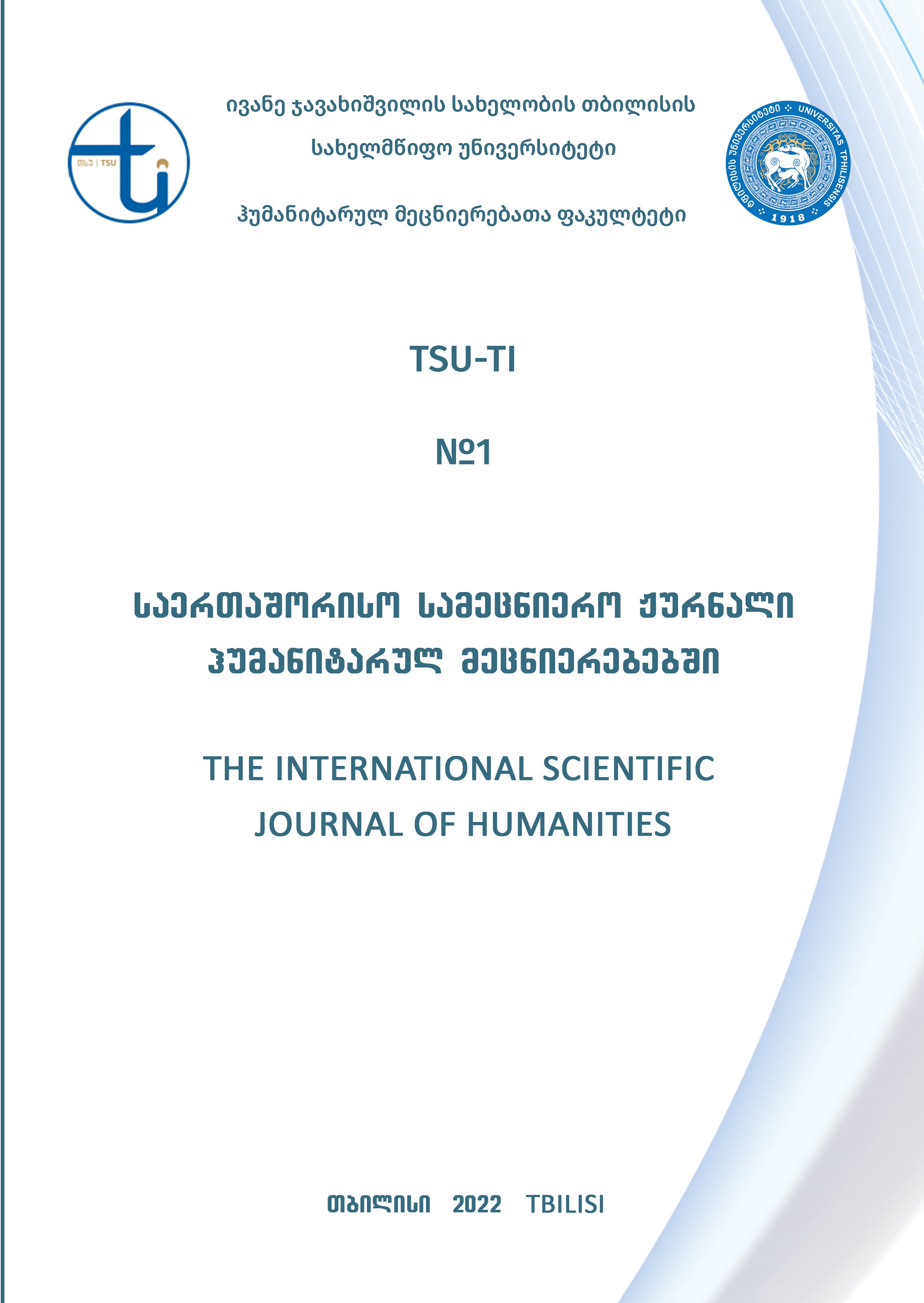 Downloads
How to Cite
/Sakartvelo, S. J. (2022). Understanding the Evidence for the Silk Roads in Georgia and its Perspective. TSU-TI — THE INTERNATIONAL SCIENTIFIC JOURNAL OF HUMANITIES, 1(1). https://doi.org/10.55804/TSU-ti-1/Jamburia