Mashaveras Gora: New Investigation of Shulaveri-Shomutepe culture Neolithic Settlement
Keywords:
Mashavera Hill, Shulaveri-Shomutepe culture, Neolithic Settlement
Abstract
Archaeological excavations at Mashaveras Gora (Bolnisi municipality, Kvemo Kartli, Georgia) were carried out in 2020-2021 archaeological season by a Georgian National Museum team. The Mashaveras Gora settlement belongs to the Shulaveri-Shomutepe Neolithic culture. With its location of confluence of two main river Khrami and Mashavera the mound appears to be one of the main settlements of South Caucasus Neolithic life. Discovery of Mashaveras Gora is related to the Soviet farm building. Short period excavation was carried out in 1988 by D. Gogelia. Since that the site was abandoned until now. The 2020-2021 excavation goal was to renew archaeological excavation on the Mashaveras Gora. The results of archaeological investigation gave us opportunity to shed a light on new architectural building tradition, which is quite different from typical Shulaveri-Shomutepe Neolithic architecture. Excavations focused on the north part of the settlement, where was excavated nine trenches, also in the west side of the mound with two new trenches for the stratigraphy of the mound. Neolithic rounded houses with its small storage buildings and several fragments of walls had been documented. Also, significant number of archaeological materials belonging to the neolithic activity. New investigated site provides material on Neolithic society practices in everyday life in the Southern Caucasus, as well as ritualistic concepts and perspectives.
References
Abuladze 2020-2021 Mashaveras Gora archaeological field reports (Report in Georgian)
Baudouin E. 2019 Rethinking architectural techniques of the Southern Caucasus in the 6th millennium BC: A re-examination of former data and new insights Paléorient, vol. 45.1, p. 115-150 © CNRS ÉDITIONS 2019.
Badalyan R. P. Lombard, P. Avetisyan, C. Chataigner, J. Chabot, E.Vila, R. Hovsepyan, G.Willcox, H.Pessin, 2007 New data on the Late Prehistory of the Southern Caucasus. The excavations at Aratashen (Armenia): preliminary report. In: B. Lyonnet (ed.), Les Cultures du Caucase (VI-III millenaires avant notre ere). Leurs relations avec le Proche-Orient. 37-61
Caroline Hamon, Mindia Jalabadze, Tata Agapishvili, Emmanuel Baudouin, Irakli Koridze, Erwann Messager Gadachrili Gora: Architecture and organisation of a Neolithic settlement in the middle Kura Valley (6th millennium BC, Georgia), Quaternary International, Volume 395, 2016, Pages 154-169, ISSN 1040-6182, https://doi.org/10.1016/j.quaint.2015.01.055.
Caroline Hamon. 2008 From Neolithic to Chalcolithic in the Southern Caucasus: economy and macrolithic implements from Shulaveri-Shomu sites of Kwemo-Kartli (Georgia), Paleorient 34, N 2, 85-135
Chelidze L. & Gogelia D. 2004 Aruchlo I: An early-farming site. Journal of Georgian Archaeology 1,2004, 46-92
Chikovani, G., Abuladze, J., Zhvania, D. 2015. Settlements of the Early Farming Period Culture Explored by Kvemo Kartli (Aruchlo) Archaeological Expedition (1966-1988). Georgian National Museum, Otar Lordkipanidze Centre of Archaeology, Tbilisi
Japaridze, O., and A. Javakhishvili, 1971 — [The oldest culture for farming of habitants on the territory of Georgia] (in Georgian). Tbilisi
Djavakhishvili, A., 1973. Stroitel'noe delai arkhitektura poselenij juzhnogo Kavkaza V-Ill tys. do n.e., Tbilisi.
Djavakhishvili, A., Kiguradze, T.V., Glonti, I., Djaparidze, O., Avalishvili, G.,Davlianidze, C., Dolaberidze, R., 1975. OtchetKvemo-Kartlijskoj arkheologicheskoj ekspeditsii (1965e1971 gg) [Report on Kvemo-Kartli Archaeological Expedition (1965e1971) in Georgian]. Metsniereba
Helwing B, Tevekkul A, Lyonnet B, Guliyev F, Hansen S, Mirtskhulava G , 2017 The Kura Projects , New Research on the Later Prehistory of the Southern Caucasus ,Deutsches Archaologisches Institut , Eurasien – Abteilung , Archaologie in Iran und Turan , Band 16 , Dietrich Reimer Verlag , Berlin.
Kenneth Ritchie, Wim Wouters, Guram Mirtskhulava, Saba Jokhadze, Dimitri Zhvania, Joni Abuladze, Svend Hansen, Neolithic fishing in the South Caucasus as seen from Aruchlo I, Georgia, Archaeological Research in Asia,Volume 25, 2021, 100252, ISSN 2352-2267,
Kiguradze T. 1970 Stone industry from Shulaveris Gora, Historical collections II, Tbilisi
Kiguradze T. 1986 Neolithische Siedlungen von Kvemo-kartli , Georgien . Verlag C.H. Beeck , Munchen.
Messager E , Belmecheri S. Grafenstein U. Nomade S , Ollivier V, Voinchet P , Puaud S, Courtin-Nomade A , Guillou H, Mgeladze A , Dumoulin J, Mazuya A, Lordkipanidze D 2013 Late Quaternary record of the vegetation and catchment-related changes from Lake Paravani (Javakheti, South Caucasus) Quaternary Science Reviews 77 (2013) 125-140
Narimanov, I. 1966, The Earliest land-tilling culture of the Transcaucasia. 7-Y. MKDP. Doklady I soobshcheniya arkheologov SSSR. Pp. 121-125. Moscow
Poulmarc'h, Modwene & Mort, Françoise. (2015). Diversification of the funerary practices in the Southern Caucasus from the Neolithic to the Chalcolithic. Quaternary International. 395. 10.1016/j.quaint.2015.04.040.
Sagona, A. 2018. The Archaeology of the Caucasus: From Earliest Settlements to the Iron Age (Cambridge World Archaeology). Cambridge: Cambridge University Press.
Stephen D. Batiuk, Mindia Jalabadze, Andrew Graham, Irakli Koridze, Khaled Abu, Jayyab, with contributions by Cristina Savulov 2017 The Gadachrili Gora Regional Archaeological Project: 2016 preliminary report. Anatolica 43, 173-202 ISSN: 0066-1554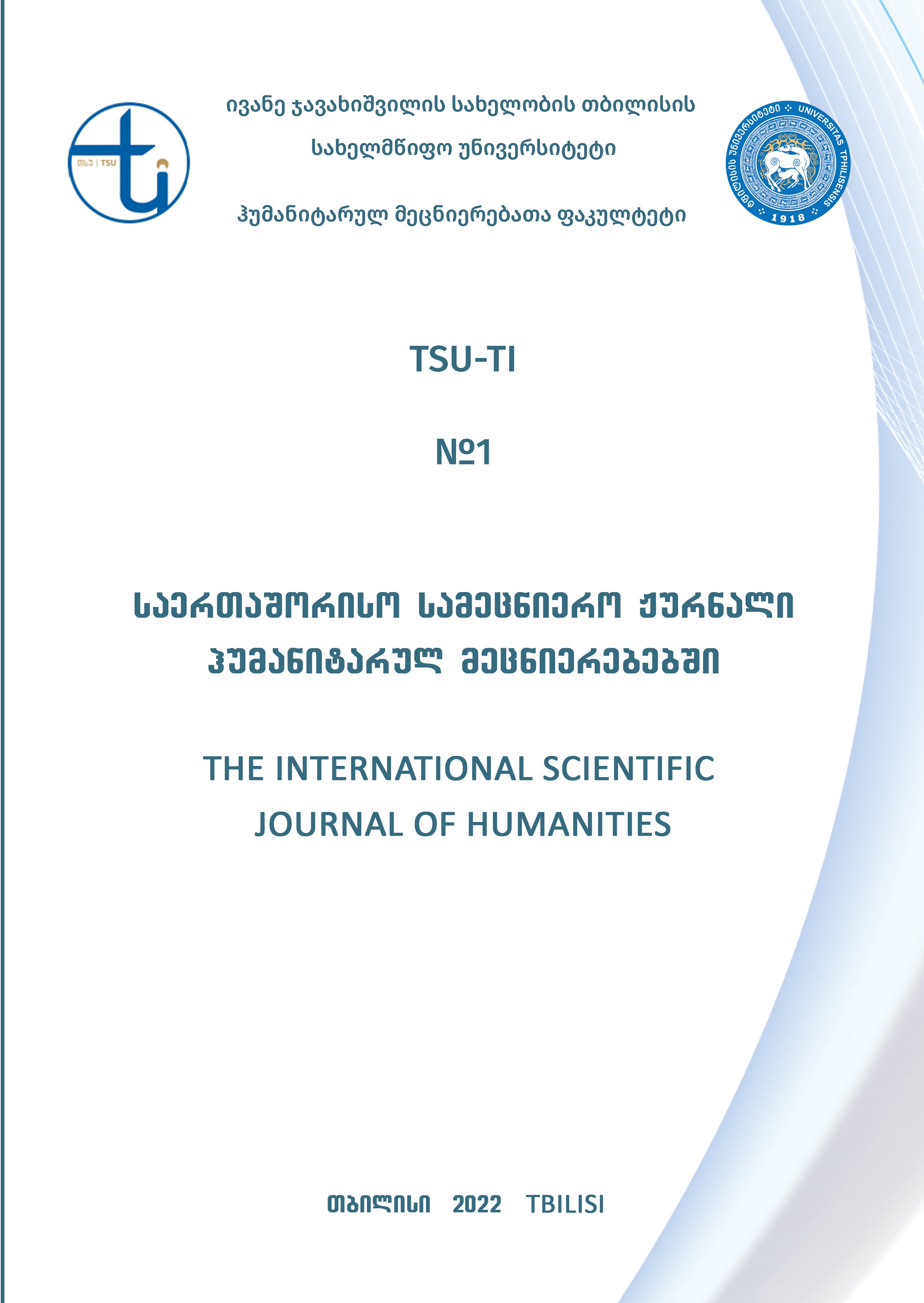 Downloads
How to Cite
Abuladze, J., Saba Jokhadze, & /Sakartvelo, D. . Z. (2022). Mashaveras Gora: New Investigation of Shulaveri-Shomutepe culture Neolithic Settlement. TSU-TI — THE INTERNATIONAL SCIENTIFIC JOURNAL OF HUMANITIES, 1(1). https://doi.org/10.55804/TSU-ti-1/Jokhadze